"It took a while to realize I'm a little 'weird' as an artist….because I don't have just one speciality to create with. I'll take any avenue to the beauty of nature found around us."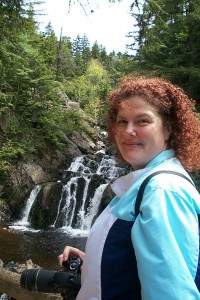 Darlene was formally trained in Fine Art and as an Illustrator. She went on to make a career in Graphic Design and Print Production. Born from Nova Scotian roots, raised in south-western Ontario, she spent a decade designing Print Graphics for the entertainment industry in Los Angeles, CA.
Now home in Nova Scotia, she pursues her traditional side as a Fine Artist, creating original works and commissions. While natural settings and wildlife are her main subjects, she loves delving into life drawing and portraiture. All of her art has a focus on detail and expression. With the goal of uncovering the wonder and light in every-day surroundings, she never lacks for inspiration.
 "I love to play in a wide variety of mediums. I'll work in watercolour, acrylic, pastel, graphite, pen & ink, coloured pencils and also photography. I use my photography a lot to work from personal reference material."
Her Art has been displayed across Nova Scotia, as well as sold internationally. Original Art, note cards and reproductions can be found at many businesses and gift shops.
Darlene and her husband Dave operate Creative Watters Art & Design: a graphic design and art production company. Dave handles website creation and is the brain behind the IT side of things while Darlene brings the bling.